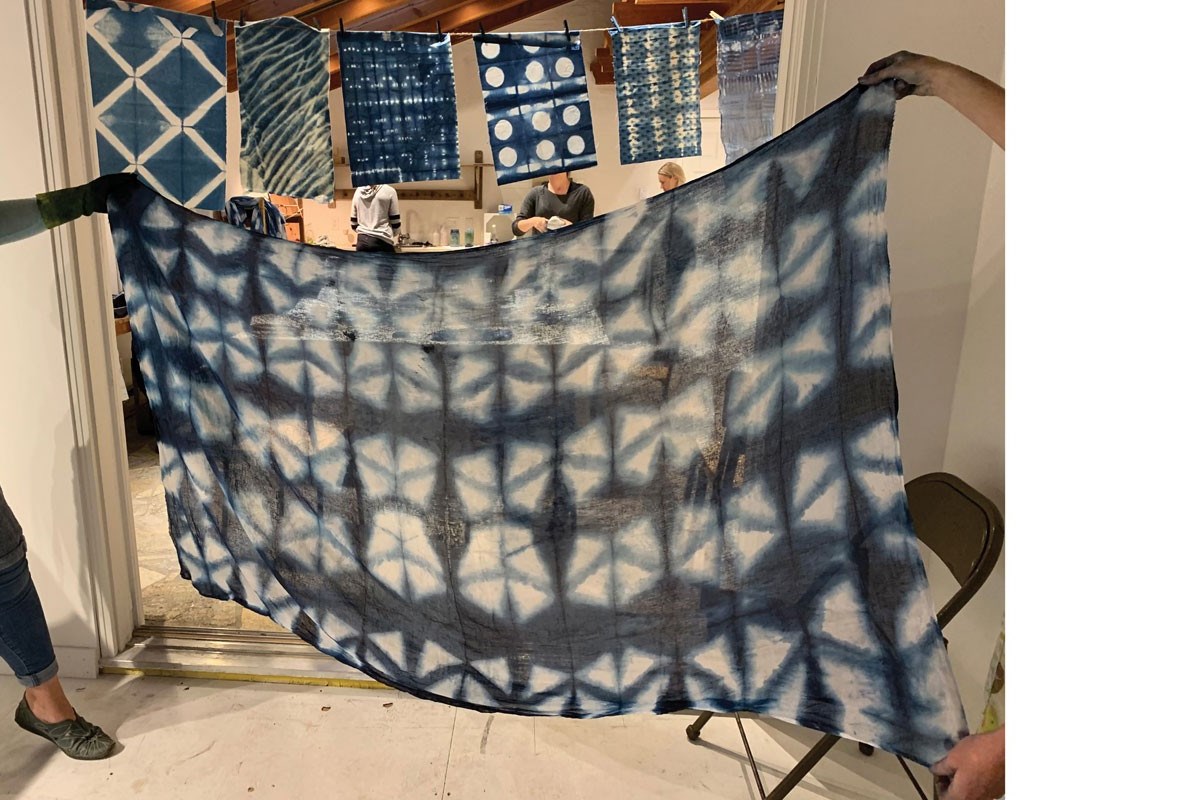 Become a handyman with new textile art workshops
[ad_1]
Sip and paint nights have grown across the Sea to Sky Corridor in recent years. But what about Sip 'n' Print? Or Sip 'n' Dip?
Frances Dickinson, textile artist, and Ulla Clark, screen printer and freelance designer, recently added these workshops to their packed list of events taking place this spring.
The Pemberton artists teamed up with The Beer Farmers (who opened a brewery on their 120-year-old family farm on Pemberton Meadows Road last year) to offer a block printing session on May 16 and a indigo dye on May 30.
"I spent a lot of time cross-country skiing this winter," says Clark. "They have this huge barn with all these picnic tables and they're very open to all this stuff that is going on and they don't mind their space getting too dirty… A lot of people have signed up for that."
In addition to the brewing workshops, the duo are hosting several other events in Pemberton: an indigo dyeing workshop on May 12, a block printing workshop on June 5, and a one-day workshop both on June 9. .
Then in Whistler, they teamed up with Studio 3 Singing Birds (where they recently taught employees some of their skills for a team building night) to offer a block printing workshop on May 8.
Finally, they recently approached Stephen Vogler of the Point Artist-Run Center to run sessions at the Alta Lake site on June 22 with an indigo dye in the morning and a block print in the afternoon (as separate workshops or a one-day event).
"We met Stephen Vogler (at The Point) and our jaws dropped," Clark said of the Whistler venue. "We both lived in the Kootenays before that and we were like, 'This is so Kootenays. "We had goose bumps. He really wanted to have us.
Working under the name Hand in Color Workshops, the two artists liked to bring their relaxed and accessible disciplines to the residents of the corridors. Workshops are meant to be relaxing, messy, and non-intimidating. Plus, you walk away with a tangible household item laying bare your unique design.
"It's really informal," says Clark. "Fran and I are very laid back people. We want a really relaxed atmosphere where people try things out."
For the uninitiated, indigo dyeing is "a very old process that has seen a revival in recent years around the world," says Clark. "Indigo is a plant, so it's a flower, and then they process it to get the vibrant color."
Dickinson creates a dye vat for the students (and offers tips on how they can replicate the process at home) before teaching them shibori—Japanese folding techniques — which create the pattern on a dyed fabric.
"We use stones, string – there are so many cool things and it's great to see the participants use their imaginations," says Clark. "You're just making these weird folds. People are enjoying this part of the process."
Block printing, on the other hand, can find beauty in flaws as well, making it a rewarding experience for beginners. "We carve blocks of lino and we also use blocks of wood foam," adds Clark. "These are simple and user-friendly techniques. I am a screen printer by training, it is a very precise art. If you make small mistakes, there are big consequences. Even for me, I found this huge addiction. to block the impression because I don't have to be so perfect. "
Logistically, workshop participants will receive a tote bag filled with different fabrics as a "sample bag" for practice. Block printers will come away with a new set of cloth napkins while indigo dye participants will make a scarf.
"They are both a lot of fun and addicting," says Clark. "It's fun for everyone. We definitely attract women more, but we want to get a few guys involved. It's not just a female activity."
For more details on each of the workshops, visit handincolour.com.
[ad_2]